Ampersand Tattoos
Some people care so deeply about ampersands, they have them permanently drawn on their skin.
Flickr user letsread wrote me this:
it's ITC caslon 540 italic from the book figgs & phantoms by ellen raskin–which incorrectly identifies the ampersand as garamond
Also she has a blog.
Janet also sent me hers: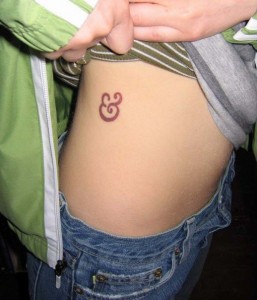 my friend just directed me to your blog – i love it! i have an ampersand tattoo. it's a direct copy of the ampersand on the cover of the book "& Fork" published by phaidon. it's an ampersand that was designed specifically for that cover, and it's gorgeous
I think both of these are pretty great. In fact, they remind me of one of my favorite ampersands.
---
Categorised as: ampersands I like, reader links
---